Actually, I've written several novellas lately. I'm about to put the finishing touches to what I consider to be the best story I've ever written, an erotic romance about a woman haunted by the memory of her first dom, chockfull of big emotions as well as exciting sex scenes. It's called
The One Who Got Away
and I hope to self-publish it soon. First, though, there's this...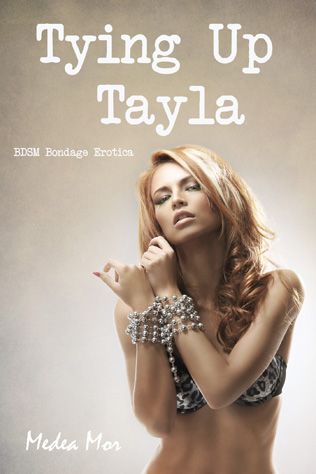 Tying Up Tayla
is a 13,600-word novelette about a bi-curious woman who starts fantasising about bondage after reading
Fifty Shades of Grey
, only to be introduced to the delights of D/s by two kinky friends, a married couple called Chelle and Michael. Narrated by Chelle, the wife, this is a story of initiation and surrender, of having your boundaries pushed and discovering a taste for new things, and of the joys and insecurities of sharing one's husband with a gorgeous friend. It's filthy in all the right ways and has some heart-felt emotion. Sequels written from Michael and Tayla's points of view will follow later.
-------------------------
Excerpt:
For a moment, all three of us stand stock still. Then Michael grabs Tayla and pushes her against the sliding door of our built-in wardrobe.
For a second, I think he's going to kiss her, which would be a violation of our rules; his kisses, we've agreed, belong to me. But he doesn't kiss Tayla. Instead he cups her chin in his hands, looks at her in that imperative and knee-weakening way he has, and says, 'So now you're my little toy, Tayla. Are you going to submit to me like the good, obedient girl I know you are?'
Tayla nods. I think I detect a little anxiety in her expression, but if she's anything like me, she'll love this particular kind of anxiety.
Without taking his eyes off hers, Michael caresses Tayla's cheeks and neck, his fingertips light on her tanned skin. 'You'll do as I tell you, and you'll call me "sir". Won't you, Tayla?'
Tayla nods again, without speaking the words Michael wants to hear. I don't need to see his face to know that he's smiling at her inexperience.
'The correct response is "Yes, sir",' he informs her.
Tayla swallows. Half a minute in and she already has a lump in her throat. This bodes well for the rest of the evening! 'Yes, sir,' she croaks.
'Good girl.' Michael affectionately pats her cheek. 'Well, now that we've got that out of the way, let's get you out of these clothes, shall we?' His hand meanders down to her chest, to the V created by her buttoned-down blouse, and gently caresses the top of a breast.
Sitting on the bed, my legs demurely crossed at the ankles, I watch with mixed feelings as Michael begins to undress Tayla. His eyes never leave hers; they bore into her as he takes off her necklaces, one by one, and throws them onto the bed. I hear two soft thuds as they land beside me on the bedspread, but I can't bring myself to look at them. My eyes are glued to Tayla, who is meeting Michael's formidable gaze with a mesmerised mixture of dread and arousal.
-------------------------
Like this snippet and think you might like to read more? Then buy the story here:
Barnes and Noble
Kobo
Amazon
Amazon UK
Amazon Canada
Amazon Germany
Amazon Spain
Amazon Italy
Amazon Brazil
Amazon Japan
At some point, the book will be up on All-Romance, as well.
Thank you in advance for supporting me, and enjoy your read!